<< Back to Calendar
Quality in Project Controls Panel Discussion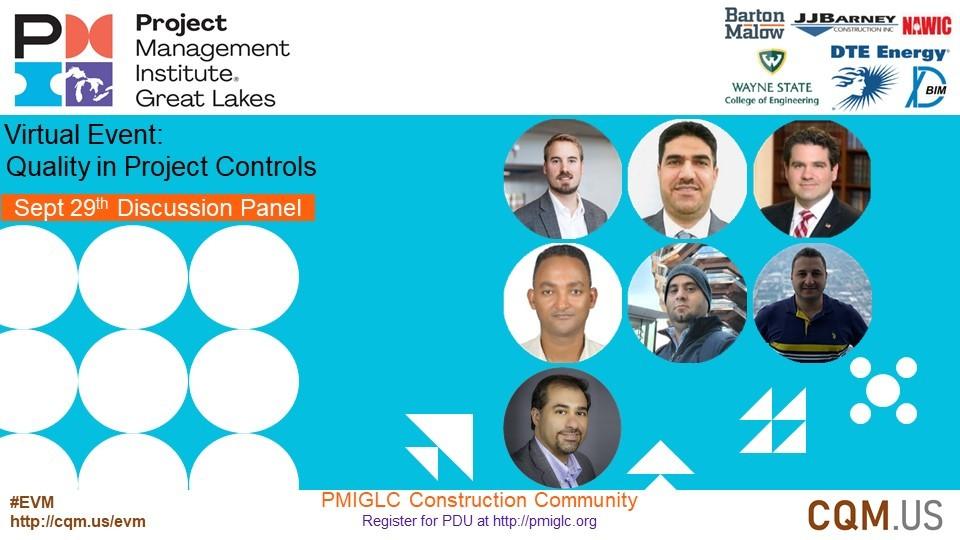 Quality in Project Controls Discussion Panel
September 29, 2020 - 4:30 pm
This event is FREE thanks to our sponsors and open to all PMI members and non-members (future members). 
PDUs: 1.5 (0.5 in each: Leadership, Technical and Strategic)
The set up for the discussion panel would be a Zoom online meeting as we did in our previous event. Please register to receive the link for the meeting. Our last event on BIM for CQM is found here. 
Registration will close on September 25.
---
Overview
As Construction Project Managers we know that Scope Management without a proper Construction (Resource) Plan is impossible. All project-related activities are derived from a Construction plan (CP) and must always be generated first, or as PMPs know it as a Project Management Plan. In a collaborative team, the way CP is communicated is through a Schedule and it serves as a vehicle for work structure decisions to be communicated from the GC to the subcontractors. As the project becomes more complex, the quality of this planning is diminished and usually requires more resources such as the bigger Project Engineering Department to perform all the required Project Controls.
In our Project Management Institute Great Lakes Chapter's Construction Quality Management Community (PMIGLC CQM), CQM experts are dedicated to share and collaborate on their best practices to improve our Construction Industry as part of our professional conduct. The topic selected for our next Discussion Panel is going to be on how we, as Construction Project Management Professionals (CPMP), could improve our processes and approach to CQM for better Quality in Project Controls.
We invite experts in the Project Control field to elaborate their thoughts, opinions, and best practices on the following topics:
Scope Management through Construction Plan
Cost Loaded Schedules and Earned Value Management
Use of EVM for better Construction Planning
LEAN Construction Value Stream Mapping for better Pull Planning
4D and 5D BIM use to achieve Quality in Project Controls
In our September 29 Discussion Panel, we have experts from Barton Malow that will share some of their best practices, an executive from JJ Barney that will share some of his lessons learned, a Project Control Specialist from DTE to give us an Owner Perspective, a Ph.D. candidate from Wayne State University that will present his findings on the use of EVM in the construction industry, and a BIM expert demonstrating the use of 4D and 5D BIM for Project Controls.
Panelists
Branden Clements, Barton Malow
Josh Barney, J.J. Barney Construction
Husam Kafaji CE, DTE Energy
Mamon Shareef, X Dimensional
Mussie Naizghi, P.E., WSU
Yahya Janabi, Consultant

Please click here for the Cancellation Policy & Informed Consent Release.
Please click here to read the PMIGL COVID-19 policy for in-person events.  By registering for PMIGL in-person events, you agree to abide by the PMIGL COVID-19 policy.
It is no longer possible to register for this event