Welcome to
PMI Great Lakes
PMI Great Lakes is a professional organization located in the Detroit Metro area, and committed to advancing the project management skills of its approximately 2000 members.
FEATURED EVENT: December Monthly Meeting
Annual Chapter Business Meeting
Date: Monday December 14, 2020
Time: 6:00 PM - 7:30 PM
Facilitators: PMIGL Executive Committee
It's time for the Annual Chapter Business Meeting.  Join us to review the year's accomplishments and see the volunteers who are behind the activities of the PMI Great Lakes chapter.
There is no cost for PMIGL members to attend this event.
Note: this event will be virtual. Zoom information will be sent after registration.
Click on the link below to register.
Click here to register
Community Volunteer Opportunities
Serve Squad Youth PM Training Program - Volunteers Needed
Serve Squad, an affiliate of PMI Great Lakes, is looking for volunteers to help with their Youth PM Training program.
They are in need of volunteers for the roles of Manager of Youth Events and Youth Project Manager Skills Trainer.
If you are a member in good standing with PMI and PMI Great Lakes, please click on the links below to download a role description.
Youth Project Manager Skills Trainer
Questions? Contact Tené Logan at tlogan@servesquad.org

Click to learn more about Serve Squad
November is Project Management Month in Michigan
Michigan governor Gretchen Whitmer has designated November as Project Management Month.  Thanks to the PMIGL Outreach team and the other Michigan PMI chapters who worked to get this proclamation made.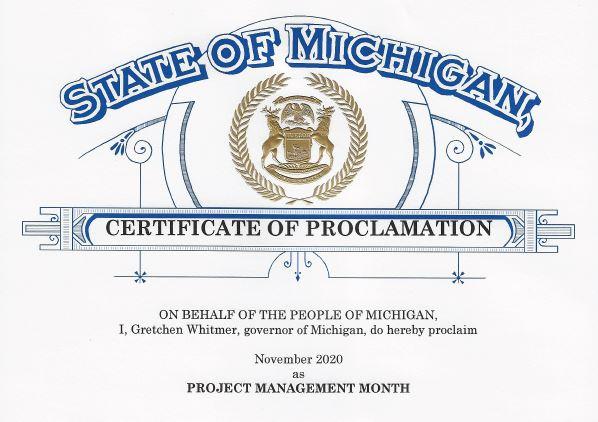 Upcoming Events
2020 December Monthly & Annual Meeting - Virtual
December 14th, 20206:00PM to 7:30PM
Cost:
FreeMembers
FreeNon members
Read more
Secure Member Documents Download Area
Documents can be found in the Member Area page of the Membership section
Click here