PMI Great Lakes Corporate Outreach Program is the liaison between PMI and the companies located in the Chapter's geographic area. PMIGL Corporate Outreach utilizes Needs Analysis Interviews with corporate representatives who have responsibility for implementing and leading project/program management in their companies help determine relevant issues. 
How does PMI Great Lakes help corporations and organizations in their Project Management Improvement endeavor?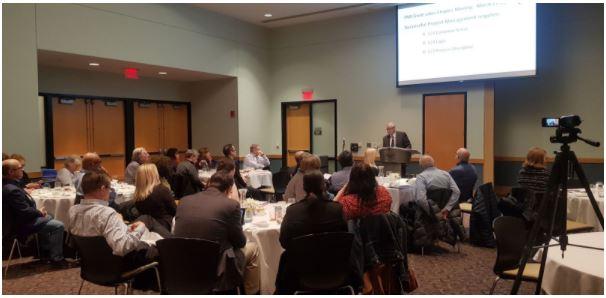 Although PMI is an organization for individual membership, meaning that companies are not members but Project Management Professionals are, many companies are interested to be affiliated and partner with PMI Chapters as sponsors. Project Managers usually pursue a PMP Certification for their own personal career development and to prove their competency as a Project Management Professional, but organizations benefit best by having a Project Management Office composed of like-minded PMPs. Although PMPs benefit from PMI resources, knowledge sharing, and best practices, this often does not translate into benefits for their organizations. Here is where a Director of Corporate Outreach plays a key role. How to support Corporates and their Project Managers to realize the benefits of participating in PMIGL Events and receive benefits of adopting the Project Management Body of Knowledge (PMBOK) Framework?
Here is a list of benefits our chapter offers our corporate sponsors and affiliated organizations:
Training events to improve Process & Procedures in PM-related tasks with PMBoK framework approach
Access to Knowledge Management Resources for Project Management related information
Provide coaching to establish a Project Management Office to ensure the success of projects by improving Project Outputs and Business Outcomes
Standout as an advocate for advancement in Project Management in the industry
Join roundtables and discussion panels to discuss challenges and build upon each other's best practices
Create a Social Club for executives of related companies as partners rather than competitors
Use the chapter as a Chamber of Commerce for new PM-related business opportunities
Use the chapter members as Research & Development outsourcing and creating whitepapers and case studies
Share Job Opportunities with our database of more than 2000 PMP members
Establish a Mentor & Mentee relation with student and prospective emerging professionals as future team members & employees
Here is a shortlist of the benefits in becoming a PMP as an individual and why Organizations should support their Project Managers seeking the certification:
Improve a Project Manager's methodology by adopting the PMBoK framework approach on Inputs, Tools & Techniques, Output documentation of Processes and consideration for Enterprise Environmental Factors and Organizational Process Assets in their Project Management Style and Decision Makings.
Share Best Practices, Knowledge, and Research Articles in the field of Project Management related to any of the Ten Knowledge Areas i.e. Project Integration Management, Project Scope Management, Project Schedule Management, Project Cost Management, Project Quality Management, Project Resource Management, Project Communications Management, Project Risk Management, Project Procurement Management, and Project Stakeholder Management
Attend Professional Development Seminars, Webinars, Conferences, and Symposiums to earn PDUs (Professional Development Units of Continued education) to learn about new trends and innovations in the field of Project Management and "sharpen their saw"
Keep up to date with the latest PM Trends and News through PM Edge, PM Journal, PM Network, Projectify Podcast as a member of Project Management Institute
Advance Project Managers professional and ethical behavior by upholding the PMP Professional Conduct and participating in volunteerism to give back to the society and the PM community.
In 2020 we focused on building our Construction Community. We plan to build our Healthcare Community in 2021. Don't hesitate to reach out to our Director of Corporate Outreach, Dr. Emari, if you are interested in leading our Corporate Outreach in other industries and form Government, Automotive, IT, and Military Community.
Corporate Outreach
Current Tracks
Construction & Healthcare
Track 1 - Construction Community
2020 Events
Project Management Office - Barton Malow's Case Study
Construction Quality Management - LS Brinker/DTE Case Study
Building information Modeling for CQM - Discussion Panel
Quality in Project Control using Earned Value Management (EVM) - Discussion Panel
Quality Professional Round Table - Construction Quality Week Celebration
Sponsors:

For more information about the programs and members of our CQM community visit: http://cqm.us
Planned 2021 Events
Next year we will focus on Owner type organizations and benefits of CQM Methodology for Architectural and Engineering firms. If you wish to suggest panelists for the discussion or take part in the events, please don't hesitate to contact our Manager of Corporate Outreach, JP Hayes. The events and topics are as follows:
March 30, 2021 – USGBC Detroit : LEED for PMPs

June 29, 2021 – AIA Detroit : Integrated Project Delivery

September 28, 2021 – LEAN Construction Institute : Value Streaming

November 17, 2021 – Construction Quality Week 2021
New for 2021: Construction Outreach for Social Good
Discovering the next generation of construction project managers and exploring construction careers for emerging professionals & students.
Track 2 - Healthcare Community
PMIGL Healthcare Community is part of the Wellness Quality Managers Community that would focus on applying the PMI Philosophy and utilize PMBOK framework to improve Project Outputs and Business Outcomes of organizations in the Healthcare Industry.
Healthcare Outreach Manager, Ed Pelic, will lead this effort to gather like-minded people from organizations in the Healthcare Industry to collaborate and share best practices for improvement of their community.
Planned 2021 Events:
We are currently conducting surveys and gathering expertise's suggestions on topics to be discussed in round tables and discussion panels. Please don't hesitate to reach out to Ed, if you are interested in participating. The tentative events and topics are as follows:
February 23, 2021 – Lessons Learned from Managing a Pandemics
May 25, 2021 – Virtual Care and Best Practices
October 26, 2021 – Project Management Office for Healthcare Industry
Corporate Outreach
Affiliates & Partners
Establishing reciprocal agreements between PMI Great Lakes and non-profit professional organizations for the mutual benefit of each membership and audience.