<< Back to Calendar
Construction Panel: PMPs for LEED Projects
Panel Discussion: PMPs for LEED Projects
Project Management Professionals understand the System Thinking concept behind LEED rating system and are the experts when it comes to integrating different aspects of a project.
U.S. Green Building Council's LEED rating system has identified great strategies to reduce the adverse impacts of built environments on several important fronts based on the Triple Bottom Line concept, as follows:
Reverse Contribution to Global Climate Change
Enhance Individual Human Health and Well-Being
Protect and Restore Water Resources
Protect, Enhance and Restore Biodiversity and Ecosystem Services
Promote Sustainable and Regenerative Material Resources Cycles
Build a Greener Economy
Enhance Social Equity, Environmental Justice, Community Health and Quality of Life
Although the Green Building concept is sensible and economical with great marketing and promotional value, the trend of adaptation and move to Green Building is not as expected.  As more Federal Government projects mandate some LEED strategies, other building and facility owners are reluctant to pursue LEED certification due to certain challenges inherent in the construction industry and its project delivery methods.
In our March 2021 discussion panel, USGBC Detroit and PMI Great Lakes Chapter will host a panel of industry leaders to elaborate on their challenges and share best practices and success stories in pursuing a LEED certification. PMI will offer its perspective on how PMI Philosophy and adopting the PMBoK framework would facilitate and champion a successful LEED project completion!

Panelists: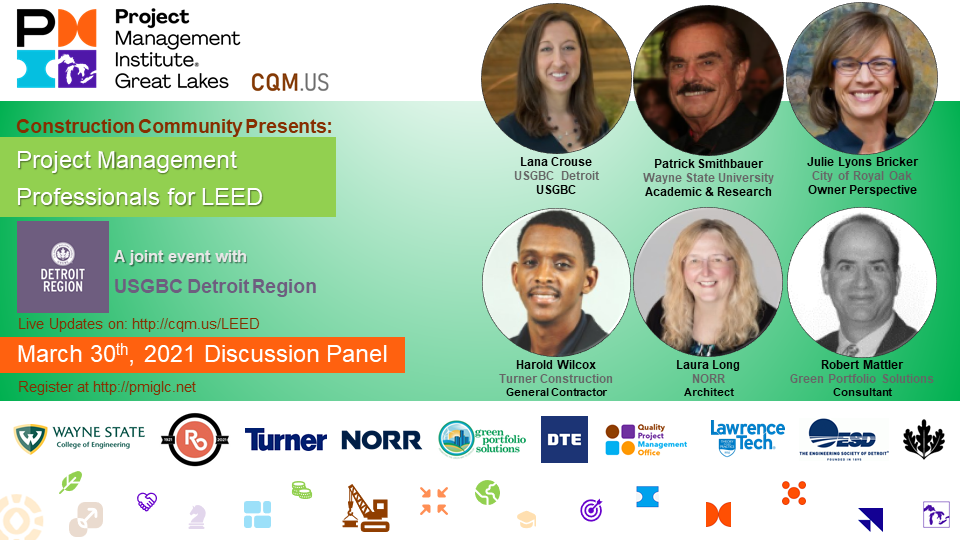 Lana Crouse, USGBC Detroit Region
Director of Community: Understanding LEED and Future Trends
Patrick Smithbauer, Wayne State University
Academic & Research Perspective: Benefits of LEED & Green Building
Julie Lyons Bricker, City of Royal Oak
Owner Perspective: City of Royal Oak's Initiatives on LEED
Laura Long, NORR
Architect Perspective: Challenges in Pursuing LEED certification - Architect Perspective
Harold Wilcox, Turner Construction
General Contractor Perspective: The road to LEED Certification: Case Study
Robert Mattler, Green Portfolio Solutions
Consultant's Perspective: Tools and Techniques for LEED success
Hosted by Harri Emari
PMP Perspective: System Thinking Interpersonal Skills for Managers
Panel meeting details will be sent via email after registration.
If you are a PMP, PE, or LEED accredited professional and wish to receive continuing education credit for attending this program, please contact manager.outreachevents@pmiglc.net for certificates.
Please click here for the Cancellation Policy & Informed Consent Release.
Please click here to read the PMIGL COVID-19 policy for in-person events.  By registering for PMIGL in-person events, you agree to abide by the PMIGL COVID-19 policy.