<< Back to Calendar
Construction Panel: The Success OF IPD Projects
Construction Panel: The Success OF IPD Projects
Integrated Project Delivery was developed as a solution to construction projects' adversarial relationships, low rates of productivity, high rates of inefficiency and rework, frequent disputes, and lack of innovation, resulting in too many projects that cost too much and take too long to build.
Project Management Professionals are proficient in Integration Management for different aspects of a project. The PMBoK Framework is applicable to any type of project, but when it comes to Integrated Project Delivery, there are contractual, psychological, and business management skills needed to successfully carry out the management of a quality end product that mixes Team Culture, Owner Business Objectives, and Contractor's Financial Goals.
Many organizations have methodology guidelines, standards, and agreement templates that could be used for this purpose, such as:
ANSI Integrative Process Consensus National Standard Guide 2.0 - 2012
AGC advocated ConsensusDocs 300
IPDA & LCI Integrated Project Delivery: An Action Guide for Leaders
CMAA: Managing Integrated Project Delivery
American Institute of Architects California - 2007 IPD: A Guide
AIA Document A195, B195, and A295 - 2008: Standard Form of Agreements
PMI Integrated Project Delivery Resources
Path to an IPD Contract seems to be as simple as agreeing on Business Case, Contract Selection, Team Development, Charettes, and Negotiating Commercial Terms. However, achieving the synergy and collaborative culture within the newly formed triparty agreement and their subs, known as the "IP Team", requires a champion that has interpersonal and business management skills as much as construction project management skills.
In our June 2021 discussion panel, AIA Detroit and PMI Great Lakes Chapter will host a panel of industry leaders to elaborate on their challenges and share best practices and success stories in pursuing an IPD Project. PMI will offer its perspective on how PMI Philosophy and adopting the PMBoK framework would facilitate and champion a successful IPD project completion!
Panelists: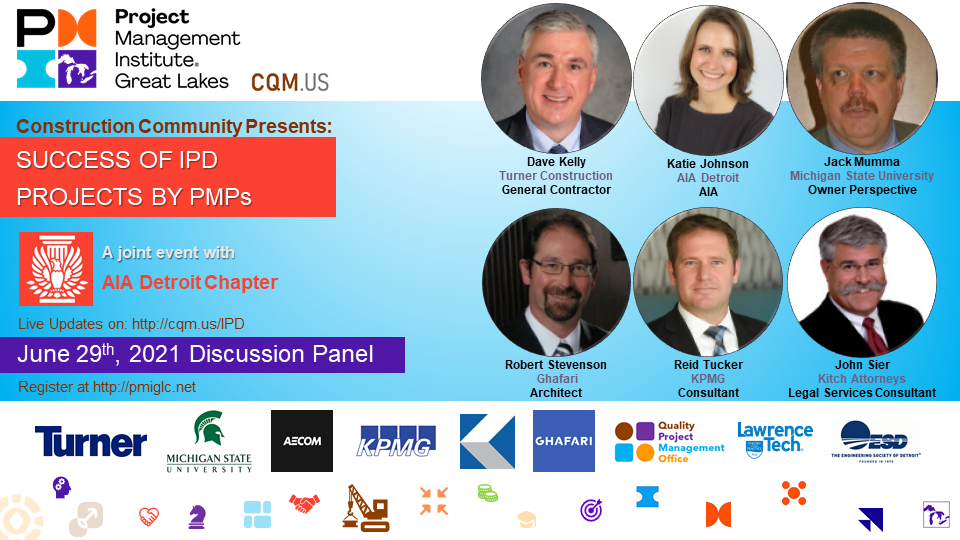 Dave Kelly, Turner Construction
General Contractor Perspective: The road to IPD Success: Case Study

Katie Johnson, AIA Detroit
AIA: Trends & Future of IPD

Jack Mumma, Michigan State University
Owner Perspective: Why Do Owners Welcome IPD Projects?

Robert Stevenson, Ghafari Associates
Architect Perspective: Challenges in Pursuing an IPD Project - Architect Perspective

Reid Tucker, KPMG
Consultant Perspective: Tools and Techniques for IPD success

John Sier, Kitch Attorneys
Legal Services Consultant: Best Practices in Negotiating a Win-Win IPD Contract

Harri Emari, Host
PMP Perspective: System Thinking Interpersonal Skills for Managers

Meeting information will be sent via email after registration
Please click here for the Cancellation Policy & Informed Consent Release.
Please click here to read the PMIGL COVID-19 policy for in-person events.  By registering for PMIGL in-person events, you agree to abide by the PMIGL COVID-19 policy.