<< Back to Calendar
Construction Panel: PMPs Applying LEAN Methodology To Projects
Construction Panel: PMPs Applying LEAN Methodology To Projects
In our September 2021 discussion panel, LCI Michigan and PMI Great Lakes Chapter will host a panel of industry leaders to elaborate on their challenges and share best practices and success stories in applying LEAN Methodology to their Projects and Organizations. PMI will offer its perspective on how PMI Philosophy and adopting the PMBoK framework would facilitate and champion a successful implementation of LEAN tools and methods.
Thanks to our endorsing sponsors, this event is free of charge, complimentary to our guests and the CQM community. However, there are limited Zoom Participation spots available, so please register early.
More information to follow on http://cqm.us/event
Panelists: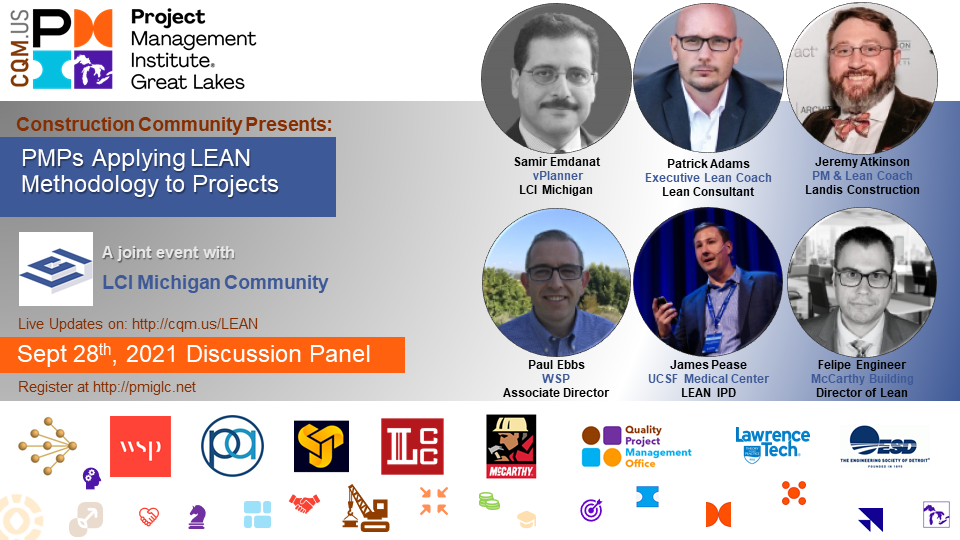 Samir Emdanat, vPlanner, LCI Michigan
Paul Ebbs, WSP, Associate Director
James Pease, UCSF Medical Center, LEAN IPD
Felipe Engineer, McCarthy Building, Director of Lean
Patrick Adams, Executive Lean Coach, Lean Consultant
Jeremy Atkinson, PM & Lean Coach, Landis Construction
Harri Emari, Host and the PMI Perspective
Please click here for the Cancellation Policy & Informed Consent Release.
Please click here to read the PMIGL COVID-19 policy for in-person events.  By registering for PMIGL in-person events, you agree to abide by the PMIGL COVID-19 policy.
It is no longer possible to register for this event